An Ariel View of New Orleans after Katrina (David Phillip/AP)
Residents walk through a destroyed area of Port-au-Prince scanning the debris for anything that has survived the earthquake

Typhoon Haiyan - Philippines 2013
An aerial view of a coastal town, devastated by super Typhoon Haiyan, in Samar province in central Philippines November 11, 2013.
On April 20, an explosion ripped through the Deepwater Horizon offshore oil drilling rig in the Gulf of Mexico, killing 11 workers and injuring 17 others Photo: EPA
Earthquake and Tsunami in Japan
A tsunami spawned by the Japan earthquake washed away houses and cars in Miyagai Prefecture.
PHOTOGRAPH BY KEICHI NAKANE, YOMIURI SHIMBUN/AP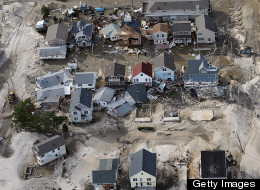 A photo of the devastation in New Jersey.