When choosing a story, consider:
Your audience

Age, language development, attention span

Content:

Length (as pertaining to age/attention span)
Upsetting or distracting content, such as:

Death
Being lost
Underpants!

Sophistication of humor
Challenging vocabulary
Unfamiliar setting

Your comfort zone

Don't pick a story just because it's short and easy if you also find it dull (your listeners will, too)!
If you are inexperienced, avoid starting out with something that's too complicated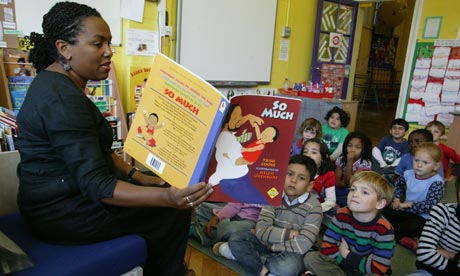 Are you going to do a straight-forward reading from a book? Practice showing the illustrations and reading sideways. You can also memorize the text.
Consider how you will use your voice.

Will you create and maintain character voices (listeners will know if you use the wrong voice for the wrong character!)?
Will you use volume/dynamics to evoke a mood?

Would you like to present your story in a different medium, such as:

Fabric or paper pieces with Velcro or magnets (use on a flannelboard or magnetic board)
Tell-n-draw
Puppets
Story cards (especially if the original format is too small for group sharing)
Props
Traditional storytelling (just voice with no props)
Participation story with action, a repeated refrain, and/or sound effects provided by the audience
Story as song (e.g. "I know an old lady who swallowed a fly")
Additional Reading Strategies
What to Do
Talk about the book before you read it. Show the cover and ask the child what the book is about. Talk about the author. Flip through the book, look at the pictures together, and talk about what's on the jacket flaps.


While reading, stop and ask open-ended questions such as:



What do you think will happen next?

Why do you think the character did that?

What do you think is happening in the picture?

Has anything like this ever happened to you?

It's OK (in fact, it's great) if the child asks questions while you read. Stop and answer them.

Read with enthusiasm and enjoyment—don't be afraid to use funny voices or to read louder or more quietly as is appropriate. Show your silly side.


After you've finished, talk about the book and whether if reminds the child of other books you've read together. Ask the child for his or her opinion. Did the child have a favorite page? If so, feel free to read it again. Better yet, ask the child to read it to you!
Taken from: Readwritethink.org